Welcome to Zeelantic Transport Limited. Our speciality is Mega Euroliner Trailers. With more than a decade of experience Zeelantic Transport is a small independent International haulage firm, based in Clane, Co. Kildare. Our trailers have an internal carrying capacity of 100 cubic metres with 3 metre vertical height available. We have the ability to take standard loads but also the duel advantage of high volume or unique freight, not achievable with standard European spec curtainsider trailers.
We offer driver accompanied transport to the UK & Europe & all our drivers are fully trained with CPC, ADR & Air Freight Security certification. Our customers can be reassured of the location of their freight at any time with our full satellite tracking system which in turn enables us to provide accurate collection & delivery times in this ever changing environment.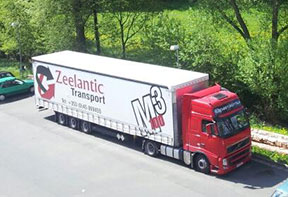 Satellite Tracking System
We use a Satellite Tracking System to monitor the progress of your goods from source to destination. Our office is always on hand to relay up to the minute information to our customers as required. It also enables our office to guide drivers on the most cost effective route to take.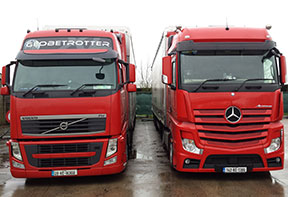 Solutions To Every Situation
Our sliding roof allows cargo to be loaded with the use of a crane or overhead gantry. Our hydraulically raised roof makes it possible to load 3 metre high goods effortlessly through either side of the trailer. It is also possible to load freight at 3 metre high through the rear doors of the trailer on a loading bay.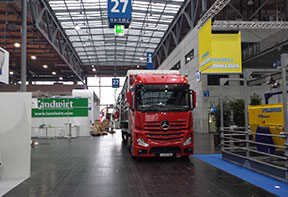 Our vehicles travel within Europe to and from Ireland on a weekly basis, with Germany and Austria being our main focus. We will also quote for loads to and from the UK on request subject to availability. Please get in touch for more information.
Proudly Associated with the Irish Road Haulage Association